by Dr Natalija Riabko – Head of Commodities, Sinowei
Focus:
Countries began to massively purchase food for the second wave of COVID. Several countries have started purchasing food products. According to Bloomberg, this is being done on fears that the second wave of the coronavirus pandemic could cause global damage to world trade.
Jordan made record purchases of wheat. Since April, Egypt has increased grain purchases by more than 50%. Taiwan has increased its strategic food supplies, as has China.
The pandemic has disrupted the usual supply chain "from farm to enterprise." In the spring, this has already led to empty shelves in stores in many countries around the world. Then the final consumers – citizens – began to stockpile in the event of future supply disruptions.
As for food prices, they continue to rise. Rising prices for corn and sugar: the price tag is creeping up as countries increase purchases. Another factor that affects the rise in prices is the drought in the Black Sea region.
Crops
Brazil
According to Brazil's economic ministry, the country will suspend import duties on corn and soybeans from countries outside the Mercosur trade bloc until next year in an effort to reduce food prices that are fueling inflation. The ministry said in a statement that imports of soybean meal and soybean oil will also be tax-exempt along with soybean imports until January 15, 2021, and corn imports will not be taxed until March 31, 2021. Tariffs for imports of corn and soybeans from non-Mercosur countries are currently 8%, 6% for soybean meal and 10% for soybean oil.
French Wheat

FranceAgriMer has raised its forecast for soft wheat exports from France outside the European Union in the 2020/21 season, boosted by the recent increase in supplies and the increased competitiveness of grain in global markets. In its monthly report, FranceAgriMer estimated the export of soft French wheat outside the block at 6.7 million tons, up 100 000 tons more than expected last month, but 50% less than last season's record volume of 13.46 million tons.
FranceAgriMer does not believe that Algeria, traditionally the largest buyer of French wheat, will significantly reduce purchases of French wheat this season after changing the terms of the tender to allow the participation of Black Sea grain.
Soybeans
Russia may take away from the US billion-dollar contracts for the supply of soybeans to China. Due to the escalating trade war between Beijing and Washington, US agricultural producers may lose multibillion-dollar contracts. Most of the raw materials were purchased from the United States, but due to the anti-Chinese policy of the United States, China intends to diversify its supplies.
In 2019, China imported 92 million tons of soybeans with its own production of 18 million tons.
According to experts, Russia pays great attention to the development of its agriculture and is looking for sales markets for its products abroad. In a few years, trade between Russia and China could reach $ 200 billion.
The largest exporters of soybeans in 2019 were Brazil, which produces 124 million tons, and exports 84 million tons, and the United States that produce 96.8 million tons and export 45.6 million tons. For soybean production, Russia takes 8th place in the world with 4.3 million tons, more than 40% of Russian soybeans are exported.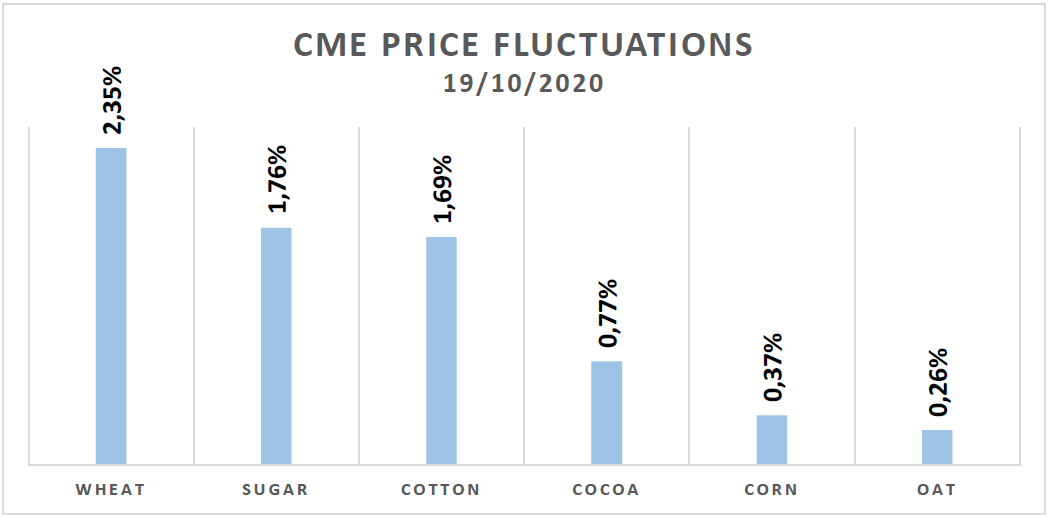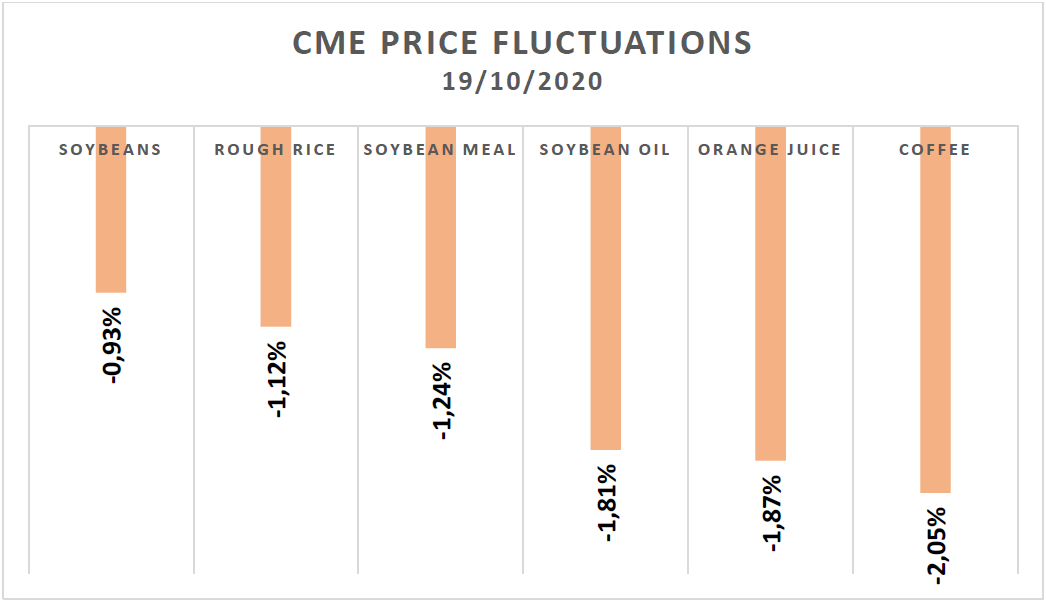 Meat market
US Meat Prices Trends
Beef
Last week, wholesale prices for beef in the US showed a downward trend. As of 10/16/2020, according to the USDA, "Choice" category beef fell in price by $ 0.45. Meat category "Select" traded down $ 2.98, bringing the Choice / Select price leverage to $ 16.51.
Over the week, the price tag for livestock remained practically unchanged (-0.1% on average), the cost of livestock in slaughter weight decreased (-0.6%).
The volume of beef production for the week increased by 2.7% due to an increase in livestock slaughter; on an annual basis, beef output for the reporting period increased by 4.2%, due to an increase in the slaughter weight of livestock compared to last year (+ 2.6% on average).
Livestock futures fell as the looming threat of self-isolation due to the re-outbreak of COVID-19 in Europe threatens global meat demand. The meat market is very demand-driven. The shopping habits may change again as concerns about COVID-19 are only growing.
Pork
As of October 16, 2020, according to the USDA, the average cost of pork products in the US market fell by $ 2.23. Last week, prices only rose for a chop, which went up by $ 2.08.
Last week, lean pig futures in the United States to their highest levels in more than 10 months as demand for meat continued to ease the burden on processing capacity and the number of COVID-19 outbreaks in the United States increased.
According to the US Department of Agriculture, last week, the daily slaughter of pigs in the US was 490 000, down 2 000 from the same period last year.
Over the past week, 14 000 fewer pigs were sent for slaughter than in the same period a year earlier. CME December Lean Pigs gained 2.67 cents to 69.80 cents/lb, the highest since December 5, 2019.
Poultry
Broiler prices in the US market as of October 16, 2020, showed a multidirectional trend. The average cost of broilers in September 2020 was 63.58 c / lb (-3.8% MoM), with total sales of about 45 370 000 pounds (+ 29.5% MoM).
Last week, all poultry, without exception, has risen in price on the American market, the biggest increase in price has been for a bird weighing 3.51 pounds or more (+ $ 4.59). At the regional level, there is a tendency for the price tag to rise. The supply of poultry of all sizes is assessed as moderate, demand is assessed as high.
China Pork Market
In China, construction of a multi-story pig city is nearing completion. The construction is expected to be completed later this year on a large multi-storey complex in the Yaji Mountains northeast of Beijing. The buildings sometimes reaching a height of 13 floors are intended for pigs.
The Guangxi Yangxiang Company is building a farm in the capital of China for the largest herd of pigs in the world. It is assumed that 30 thousand sows will be settled in the multi-storey "apartments", which will be able to bring 840 thousand piglets a year. For comparison, an ordinary large Chinese pig farm can keep around 8 thousand sows on a larger area than the "pig city".
Experts say that the complex provides for unprecedented security measures that are designed to protect the herd from such deadly diseases as swine flu or African swine fever. Guangxi Yangxiang has provided a system for dividing young and adult animals into floors and a ventilation system that prevents air circulation between the levels. A sewage system with manure storage is still under construction.
The COVID-19 coronavirus dealt a strong blow to pig breeding. In the United States, the largest meat processing plants were quarantined in April this year, and as a result, pig farmers were forced to destroy tens of thousands of animals.
World Beef Market Trend
In 2021, world beef exports could grow by 3%. According to the US Department of Agriculture (USDA), in 2021, global cattle meat production could grow by almost 2% due to the improvement in the global economy and the recovery of production after the coronavirus.
In 2021, US beef production is expected to resume growth following the COVID-19 disruption to the processing industry. In Brazil, production is expected to rise on the back of improved domestic production, increased demand, supply opportunities to China, and recovery in other export markets. On the other hand, production in Australia is expected to contract for the second consecutive year as the industry recovers after a long-term drought ends. The decline in production in Argentina will also be driven by a recovery in livestock as producers keep more animals for breeding.
However, Australia and Argentina are the exceptions as production cuts are expected to restrict exports from these countries. On the other hand, exports from Brazil will hit a record high in 2021.
Sources: Refinitiv, USDA, FAO, FranceAgrimer, European Commission, CME, Bloomberg