by Dr Natalija Riabko – Head of Commodities, Sinowei
Crops Market

Corn
According to USDA, China's corn imports in the 2020/21 marketing year are estimated at 22 million tons, well above the USDA official forecast of 7 million tons. The rise in corn imports is related to depleted stocks and high domestic prices.
China sets an annual tariff quota (TRQ) of 7.2 million tons on corn imports. But the Chinese government is expected to purchase additional millions of tons of corn in the new marketing year amid surging feed demand and limited domestic stocks.
Sugar
According to France's second-largest sugar producer, Cristal Union, this year, sugar beet crop could decline by 30% due to disease and drought. Jaundice which is spread by aphids has severely damaged sugar beet crops in France, the largest sugar producer in the European Union. Summer drought exacerbated the situation. Last month, France's agriculture ministry cut its forecast for sugar beet harvest by 1.7 million tons to 30.5 million tons, down 20% from last year's level.
Wheat
At the end of October, China sold 2.699 million tons of wheat from government reserves, following strong sales amid soaring corn prices. China, the world's largest wheat producer and consumer sold 67.74% of its weekly auctioned wheat as feed producers were actively buying wheat to replace corn, which is becoming more expensive amid limited supply. The average selling price was 2,356 yuan ($ 352.04) per ton.
In October, exports of soft wheat from France outside the European Union in October reached their highest monthly level for the current season, boosted by record exports to China. In October, exports of soft wheat to non-EU countries have reached 703 000 tons. This is a significant increase from September's export volume, which was close to a record low. In October, China became the largest importer of French soft wheat outside the EU with a volume of 524 000 tons.
Soybeans
According to USDA, US farmers are likely to increase their soybean and wheat plantings with a slight decrease in corn plantings in the coming marketing year.
Soybean plantings are projected to grow to 89.0 million acres from 83.1 million. Soybean futures on the Chicago Stock Exchange are traded at around $ 11 a bushel, up 17% since January 2020, boosted by export demand from China. CBOT corn futures rose by 5% over the year to $ 4 a bushel, while CBOT wheat futures rose by 8% to about $ 6 a bushel. Chinese demand for coarse grains also boosted corn futures, while wheat received support from arid conditions in Russia, Argentina and the US plains. Crop forecasts released last Friday are part of the USDA's annual 10-year forecast for the agricultural sector.
In October, soybean imports rose by 41% to last year (China's General Administration of Customs statistics). New data included information on delayed Brazilian supplies and an increase in shipments from the United States. The pace of purchases is expected to slow slightly in the coming months as processors have already booked a lot of Brazilian soybeans earlier, but the supply of US beans could increase.
Soybean meal
World prices for soybean meal are 30% higher than last year's level. Last week, world soybean meal prices have renewed their record values. On average, prices are 30% higher than the same level last year and are at record levels. One of the reasons for the continued growth is strong demand from China.
In September, China imported 9.8 million tons of soybeans, of which 7.25 million tons came from Brazil and 1.17 million tons from the United States. In September, imports exceeded the last year's indicator by 19%. As a result, Brazil's soybean stocks are running low, pushing prices up.
Uncertainty is growing due to the lack of rain in South America, which could have an extremely negative impact on the prospects for a new soybean crop.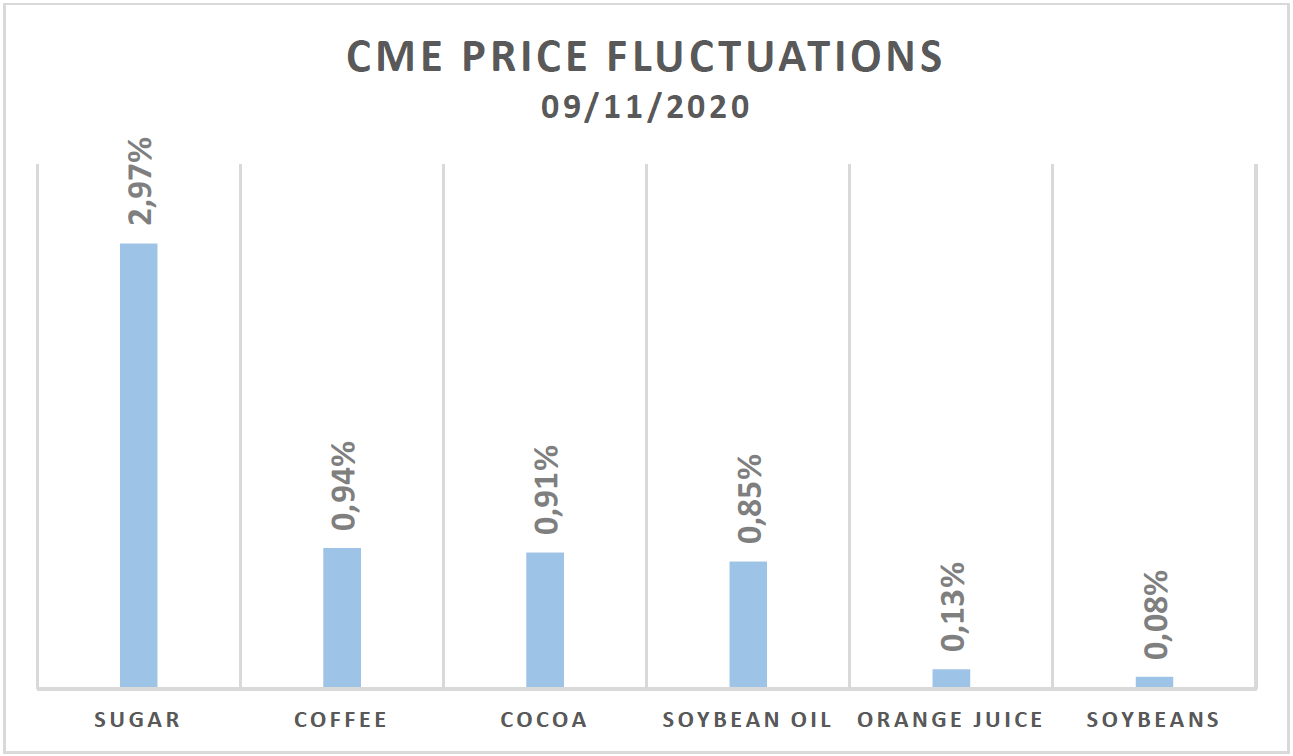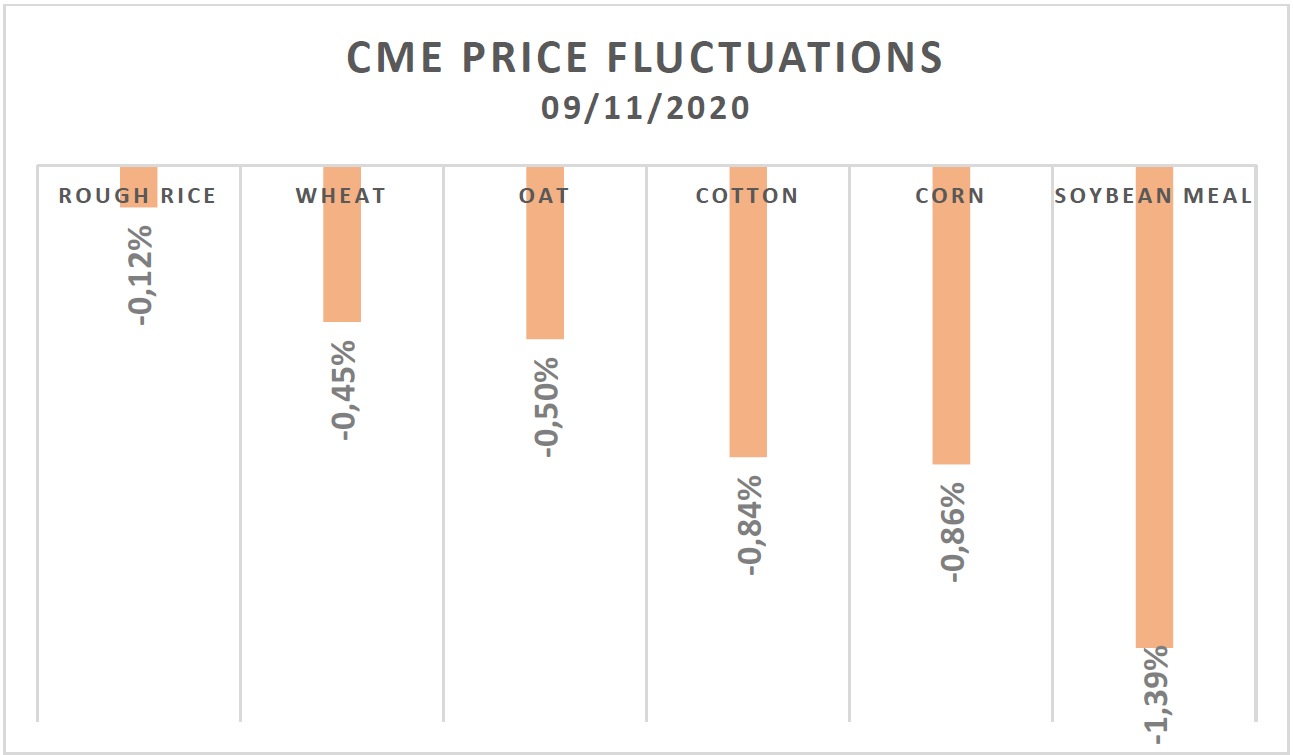 Meat Market
World meat prices in October
According to the FAO Meat Price Index, in October, all major types of meat fell in price on the world market except for mutton and lamb which rose in price. On average, the index was 90.7 points, which is 0.5 points or almost 0.5% less compared to September, and 10.9 points (10.7%) lower than in October last year.
Pork prices continued to decline as the drop in German market quotations due to the impact of import restrictions imposed by China outweighed the increase in Brazilian pork prices.
Meanwhile, cattle meat prices declined due to weak demand in the United States, coupled with rising exports from South America. And although the volume of supplies from Australia decreased due to the growth in demand for livestock to restore the cattle population in the country, this did not lead to an increase in world prices for beef.
Poultry prices also fell slightly due to a decrease in orders from China and Saudi Arabia. But the prices for sheep meat increased in conditions of stable demand and low export supplies, especially in Australia.
Chinese meat imports
China's meat imports hit record highs in the first three quarters of the year due to growing demand in the domestic market.
From January to September this year, total meat imports increased by 72% y/y to 7.41 million tons (China's Ministry of Commerce). Meat imports reached $ 23.1 billion in the first nine months of the year, up 83% year-on-year and an all-time high.
The increase in China's meat consumption is due to population growth and import stimulation policies that provide impressive business opportunities for global meat producers. As the world's largest producer, consumer and importer of meat, China has gradually overcome the negative impact of African swine fever and COVID-19.
Sources : USDA, Reuters, FAO, European Commission, CME