by Dr Natalija Riabko – Head of Commodities, Sinowei
Focus: Crops Exports to China
According to USDA estimates, in 2020/21 MY, China could import 100 million tons of soybeans which is 1.5% more than in the previous season and is a record import. Traditionally, the key suppliers of soybeans to China are Brazil, the USA and Argentina. Considering the expected gross collections in these countries, the total export potential in 2020/21 MY is seen at the level of 151.9 million tons which is 2.8% more than in the previous season (147.8 million tons). At the same time, Brazil, a key supplier, may reduce soybean exports in the beginning of the season to 85 million tons, against 92.2 million tons in 2019/20 MY (-7.8%). Exports from Argentina are also expected to decrease to 7 million tons in 2020/21 MY, against 10 million tons in 2019/20 MY (-30%). This decrease in supplies can be offset by supplies from the United States, for which soybean exports in the new season are projected at 59.9 million tons, which is 31.3% more than in the previous season. Thus, most likely, the share of American soybeans in the US market will increase, but Brazilian soybeans will dominate, as before.
As for the supply of soybeans to China from the Black Sea region, its share is insignificant. At the end of 2019/20 MY (September-August), only 852 thousand tons of soybeans were supplied to the Chinese market from Ukraine and Russia in total which amounted to only 0.9% of China's total imports. At the same time, Russian soybeans accounted for more than 90% of the supply structure. Thus, exports from Ukraine increased by 6.9 times up to 70.5 thousand tons. Supplies from Russia increased by 7% to 781.8 thousand tons. In 2019/2020 MY, the total export of soybeans from Ukraine reached 2.6 million tons and the share of supplies to China was less than 3% (70.5 thousand tons). In 2019/2020 MY, Russian soybean exports reached 1.3 million tons of which 60% were exported to China.
Crops Market
Grain Market Outlook
Last week, the grain market experienced a correction after a phase of strong growth. The main question for the following weeks is whether the correction is over or not.
Fundamental reasons for price increase can only emerge if producers begin to experience logistical problems in supplying crops to the ports for export. Currently, the market is quite balanced, given the harvest volumes of the current season. In the future, the emphasis will shift to the accumulation of moisture in the fields during the winter months. There may be surprises that can support the quotes. Wheat and corn prices are likely to rise by 10-12% by the end of the year.
Corn
The USDA lowered its forecast for 2020/21 the global corn production due to the cuts for Ukraine, the European Union, Russia and the United States. World trade as a whole was little changed from last month forecast, as lower imports for the European Union, Iran and Mexico are offset by increased trade with China. Global exports are also flat, with declines in Ukraine and Russia largely offset by growth in the United States. If the forecast is realized, US exports (October-September) could reach record high.
Sunflower
According to USDA, the decline in sunflower production in Ukraine and Russia reduces global stocks of oilseeds. Dry weather has triggered a decline in sunflower yields in Ukraine and Russia, leading to a decrease in the projected harvest for this month by 1.5 million tons. Compared to the initial forecast in May, cumulative production is down 5.5 million tons, with an annual decline of 4.8 million tons. World sunflower production is 5.3 million tons below the 2019/20 level, with further declines projected in the European Union, Kazakhstan, Turkey and Argentina. While this drop in production is significant and unexpected, global production in 2020/21 is still the third highest on record.
Wheat
According to Strategie Grains, grain supply in Europe may contract this season despite lower demand amid the pandemic as barley is being exported to China and wheat makes up for the shortfall in corn imports.
The forecast for maize imports to the European Union and the United Kingdom in 2020/21 was cut by almost 2 million tons to just under 17 million tons amid rising world prices due to a low harvest in Ukraine and strong demand in China. Expected wheat imports were also lowered as Ukrainian wheat has also become less competitive in the EU, and most of the EU's wheat crop is expected to be used as feed instead of corn.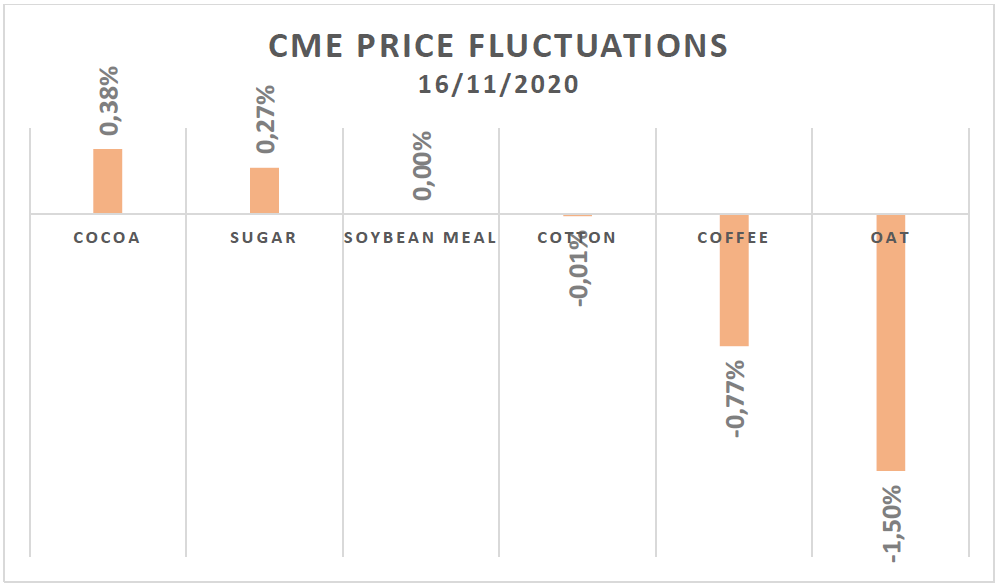 Meat Market
Pork
Pork prices in China decreased by 18.6% compared to last year. Since September, the decline in pork prices in China has accelerated significantly compared to last year. The price of live pigs dropped to 29.82 yuan ($ 4.5), down 23% from November 2019.
The average price of pork in the Chinese market is currently 47.66 yuan ($ 7.2) per kilogram – 18.6% lower than last year. At the same time, according to the Chinese National Office of Statistics, 361.86 million pigs entered the Chinese market by the end of October which is 11.7% less than last year's figure, and pork production fell by 10.8% over the year, to 25,74 million tons.
The consumption could grow by 2.26 million tons. In January-August, China imported 5.96 tons of meat, which is 5.06 million tons more than in the entire last year. The lion's share of meat exports is pork. Its volume continues to grow, while beef imports are declining. The annual consumption of meat in China reaches 41.5 kilograms per person, and it is mainly pork. In rural households, pork consumption is less than 70% of the consumption level of urban households. Chinese analysts predict that by the end of 2020, city dwellers could increase their pork consumption by about 635 thousand tons, due to the migration of 100 million people from rural areas.
According to the National Commission on Health and Family Planning, by the end of the year, the population of China will be 1.43 billion people. Considering its growth by 60 million, pork consumption could increase by about 2.26 million tons. Part of this volume will be covered by Chinese manufacturers.
According to the Ministry of Agriculture and Rural Affairs of China (MARA), by the end of the third quarter of 2020, the number of pigs in China could reach 370 million which is 84% of the pig population at the end of 2017, before the onset of the ASF epidemic. Currently, 2.6 million Chinese producers and 365 thousand pig breeding companies are involved in the pig breeding sector.
Beef
According to INTA Manfredi, in 2021, Argentina could export 40% of beef and surpass historic record. In the next months, all markets will begin to go through a recovery process. This will have a direct impact on the prices of Argentinian goods and may lead to a partial reactivation of various sectors.
International demand for beef will continue to grow. Today, almost 30% of Argentina's beef production is exported, almost all this beef goes to China and Southeast Asia. Considering the hypothesis of improving global economic conditions Argentina could export 40% of its beef in the second and third quarters of next year.
This could come as a surprise to many producers who have had to cut their feeding grounds and restocking rates this year, or those working in mixed fields who need to get rid of their animals due to crop problems.
Sources : Reuters, CME, European Commission, Strategie Grains, USDA, MARA, INTA Manfredi