by Dr Natalija Riabko – Head of Commodities, Sinowei
Focus: Chinese grain trader COFCO signed contracts for $ 10 billion
At the 3rd CIIE held in Shanghai on November 5-10, COFCO Group, China's largest food producer and grain trader signed more than $ 10 billion worth purchase contracts.
Among the products that COFCO intends to import into China under the contracts are grain, sugar, wine and vegetable oil. Compared to the 2nd CIIE, the state corporation increased its purchases by 20% to meet the growing demand for agricultural and food products in China. At the last two CIIE, CO FCO has bought large volumes of not only the usual products but also nuts, seafood and other goods.
In terms of imports of traditional agricultural products, COFCO has expanded its purchases of vegetable oil, including rapeseed, sunflower and palm oil. The corporation imports vegetable oil from countries such as Brazil, Argentina, Uruguay, Russia, Ukraine, Indonesia and Malaysia. 
Most of all products purchased by COFCO will come to China from countries participating in the Belt and Road Initiative. According to COFCO Chairman Liu Jun, import contracts will strengthen the corporation's business ties with key grain and food-producing regions and become a driver of trade between China and the Belt and Road countries. COFCO has significantly increased imports of maize, sorghum, barley, wheat and other traditional COFCO crops from France, Kazakhstan, Russia, Ukraine, Cambodia and Laos.
COFCO believes that Chinese consumers' daily caloric intake, especially protein, will increase in the future. The food supply business in China has changed dramatically in recent years. COFCO Corporation, headquartered in Beijing, was formed through the merger of various companies that previously traded oil, oilseeds, sugar, wine and spirits. COFCO's shopping list usually includes traditional agricultural commodities such as wheat, corn, sugar, cotton, and wine.
Crops Market
Wheat
On November 18, 2020, wheat quotes on the Chicago Stock Exchange rose on the back of a short coverage round and supported by the strengthening soybean and corn markets. The growth was supported by Russia's intentions to introduce quotas on grain exports in the second half of the 2020/21 season. The prices of HRW wheat in Kansas City and spring wheat in Minneapolis also rose.
Wheat quotes in Paris rose on the back of strong export demand and another strengthening in soybean and corn. However, growth was limited by increased competition from Australia and an improvement in the state of winter wheat crops in the United States. 
FranceAgriMer raised its forecast for French soft wheat exports outside the European Union for 2020/21 for the second consecutive month noting brisk demand for French wheat this season. In its monthly supply and demand report, FranceAgriMer estimates soft wheat exports outside the EU and the UK at 6.85 million tons vs 6.7 million tons expected last month. However, this is 49% below the record 13.46 million tons exported in the 2019/20 season reflecting a sharp decline in France's harvest this year due to adverse weather conditions. 
This year, unfavourable weather conditions could cause a 10% decrease in wheat production in the EU and the UK. The 27 European Union countries and the UK, which left the bloc in January, are expected to harvest 131.3 million tons of soft wheat in 2020 (according to the average forecast by analysts and traders). France and Britain could face the biggest drops in wheat production as wet weather in autumn prevented planting. The dry spring also affected other European countries. Wheat crop losses could limit exports.
Sugar
According to the International Sugar Organisation, a global sugar deficit could reach 3.5 million tons in the 2020/21 season due to a lower production forecast. The intergovernmental body had previously forecast a much smaller deficit of 724 000 tons for the current season. In 2020/21 (October / September), the global production could reach 171.1 million tons. Consumption is expected at 174.6 million tons, a 2.9% increase compared to the previous season. 
Soybeans
This year, China could import a record 100 million tons of soybeans despite concerns about weak global demand amid the ongoing Covid-19 pandemic and continued US-China tensions. According to China Customs, China's soybean imports are likely to hit an all-time high in 2020, surpassing the previous 2017 record of 95.54 million tons. From January to October this year, China has already imported 83.21 million tons of soybeans.
This fall, US farmers have sold freshly harvested soybeans at prices that hit a four-year high after big losses during the trade war between the US and China. Strong exports to China after the quarantine helped the soybean futures contract on the Chicago Board of Trade to rise by 12.3% between August 1 and mid-September. But the unusual price hikes came too late for many Brazilian farmers, who have already contracted to sell their crops at much lower prices and may now try to renegotiate contracts with buyers. Brazilian farmers pre-sold an unprecedented amount of a new soybean crop amid a rally in Chicago that prompted many to sell even before planting. According to Agribusiness consultancy Datagro, Brazilian farmers had sold 71.76 million tons of soybeans as of November 6 which represent 53.4 % of the expected harvest. The drought in Brazil has delayed soybean planting this season, but analysts and the government expect the country to harvest around 135 million tons of soybeans in the 2020/21 season.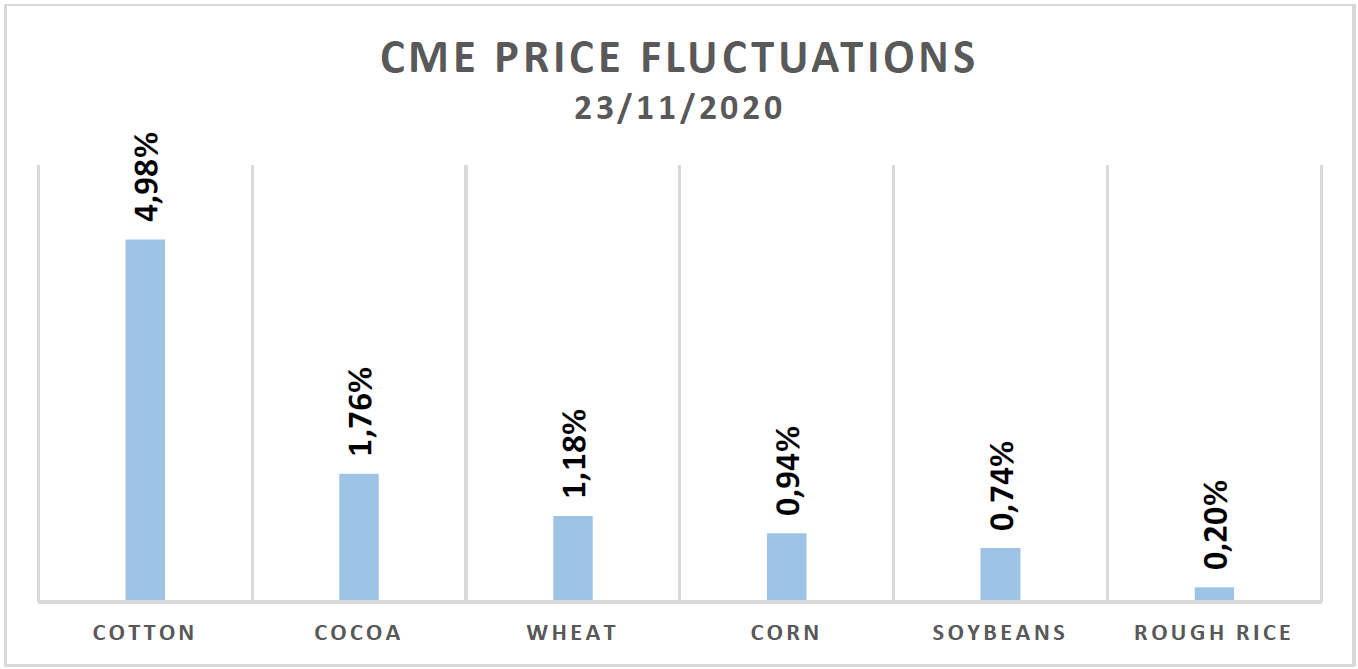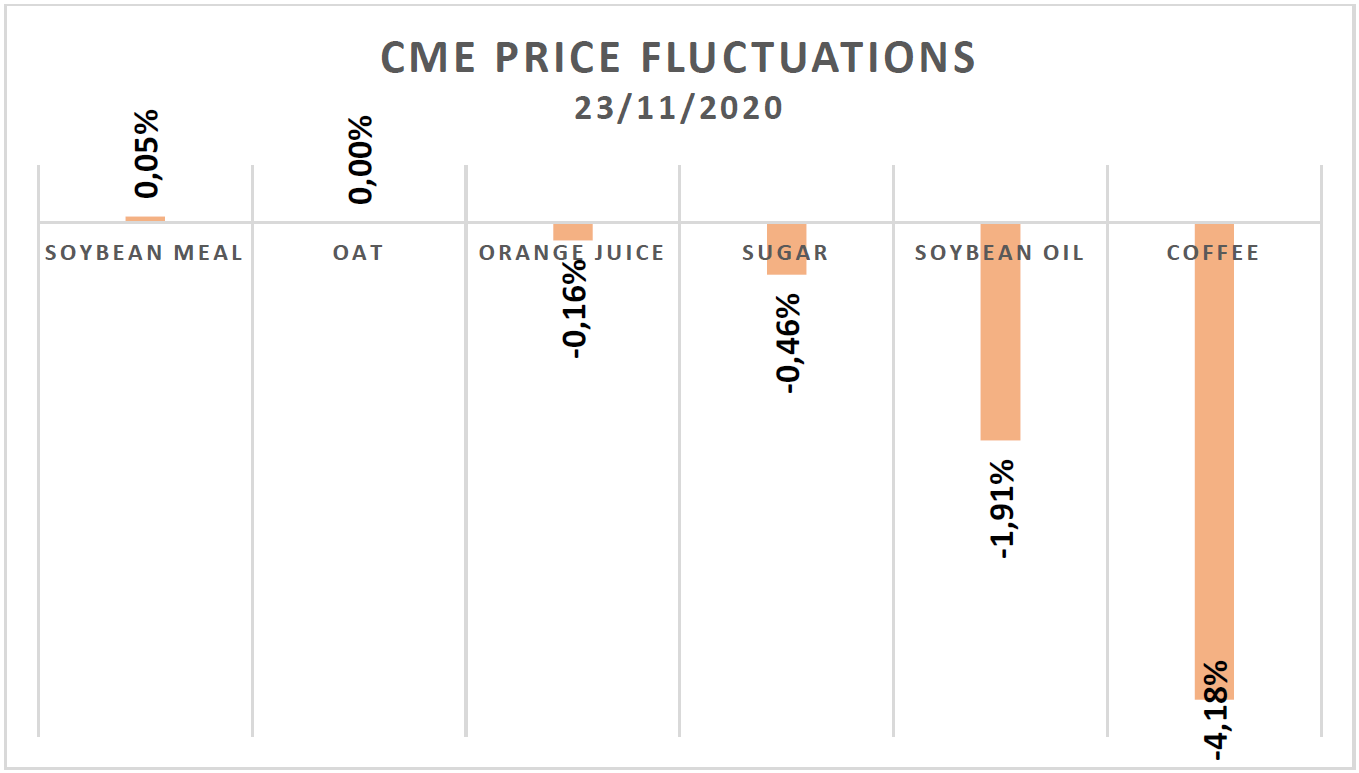 Meat Market
Poultry: China, one of the world's largest poultry importers, is opening its doors to the Turkish poultry industry.
Turkey ranks among the leading poultry producers in the world. The country exports poultry meat to 73 countries, including Iraq, Georgia, Japan and Russia. In 2019, Turkey exported $ 613 million worth poultry meat and products and are aiming to further increase this volume in the coming months.
China and Turkey agreed on a draft protocol on inspection, quarantine and veterinary status of poultry that can be exported from Turkey to China. The export was agreed upon after lengthy discussions and meetings between the two countries which took almost 10 years. In Turkey, the priority export product for China are chicken paws.
Pork: China launches three large pig farms in Argentina
According to the Brazilian magazine Agrolink, there is an upcoming launch of three large pig farms with meat processing plants built by Chinese investors in Argentina.
According to Agrolink, initial investments in the three companies amounted to approximately $130 million. The assets will be in strategic areas of the Chaco Province: north-east, centre and south-west.
The projects have been implemented through a bilateral agreement between the Government of Argentina and the top management of the Chinese-Argentinean company Feng Tian Food (FTF). Its strategic partners will be local animal feed producers. Each of the three FTF complexes will require 32.3 thousand tons of soybean and 87.4 thousand tons of corn per year.
The FTF plans to develop direct contacts with Chinese investors, and local authorities expect huge economic benefits from working with China. Each complex includes five farms, export cold stores, biogenerators for energy generation and food processing plants.
Sources : Reuters, European Commission, CME, FranceAgrimer, Datagro, Agrolink