by Dr Natalija Riabko – Head of Commodities, Sinowei
Crops Market
Corn
Brazil's national agricultural agency Conab reduced Brazil's corn production forecast for 2020-21 to 102.6 million tons from 104.9 million tons expected in November.
Dry weather in the southern region of the country negatively affected planting and crop development. Moreover, in some regions, farmers opted for soybeans instead of corn which led to a reduction in the planted area for the first corn crop.
FranceAgriMer has raised its forecast for French soft wheat exports outside the European Union this season for the third straight month. Exports are driven by strong demand, primarily from China. Exports of soft wheat outside the EU and the UK are expected to reach 6.95 million tons in the 2020/21 season, up from 6.85 million projected last month. However, this is 48% less than the record 13.46 million tons exported in 2019/20.
Grain production in China
China's gross grain harvest in 2020 amounted to approximately 670 million tons, a 0,9% increase on annual basis (the State Statistical Office). Thus, the gross grain harvest in the country remains at over 650 million tons for the sixth consecutive year. Such a bountiful grain harvest amid the COVID-19 epidemic was made possible due to the efforts to secure the transportation of agricultural materials and strengthen agricultural governance. The harvest laid a solid foundation for responding to a complex and volatile domestic and international environment, overcoming various risks and challenges. High import demand in China and Pakistan contributed to the increase in world trade to a record level in November. Unprecedented demand from large importers led to a decrease in stocks in exporting countries and an increase in world prices. The food market will be in the spotlight next year.
Palm Oil
Tariff cuts in India are boosting palm oil imports. In the end of November, the world's largest importer of palm oil cut the tariff on crude palm oil by 10 percentage points to stop food prices increase.
Palm oil export prices have risen more than 60 percent since May, the highest level in 6 years. The high cost of vegetable oils, combined with the economic impact of COVID-19, has limited India's demand and imports in 2019/20. In response to tariff cut, the forecast for palm oil imports in 2020/21 is raised by 200 000 tons as the tariff cut will make palm oil more affordable for consumers. Vegetable oil demand is expected to rebound if the economic situation improves in 2021 as the impact of COVID-19 weakens over time.
Ukrainian crops harvest
As of December 10, Ukrainian agricultural producers harvested 82.7 million tons of basic crops from which 64.3 million tons are grain and leguminous crops (99% of the forecast). Ukraine harvested 28.8 million tons of corn. According to the Ukrainian Ministry of Economy the grain harvest in 2020 could reach 65 million tons. The following early grains were harvested: wheat – 25.1 million tons, barley – 7.8 million tons, peas – 516.2 thousand tons, rapeseed – 2.56 million tons, sunflower – 13.1 million tons, soybeans – 2.8 million tons, millet – 243.7 thousand tons, buckwheat – 105.6 thousand tons, sugar beets – 9.1 million tons.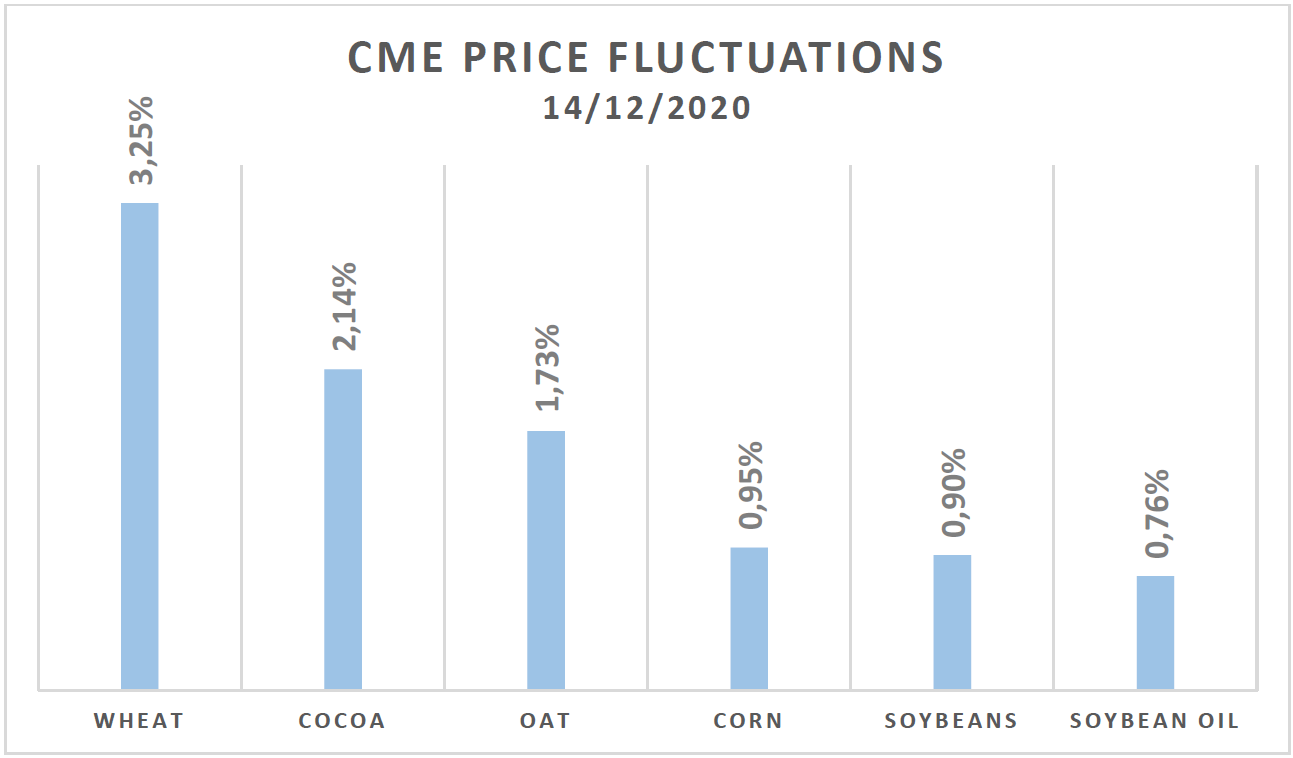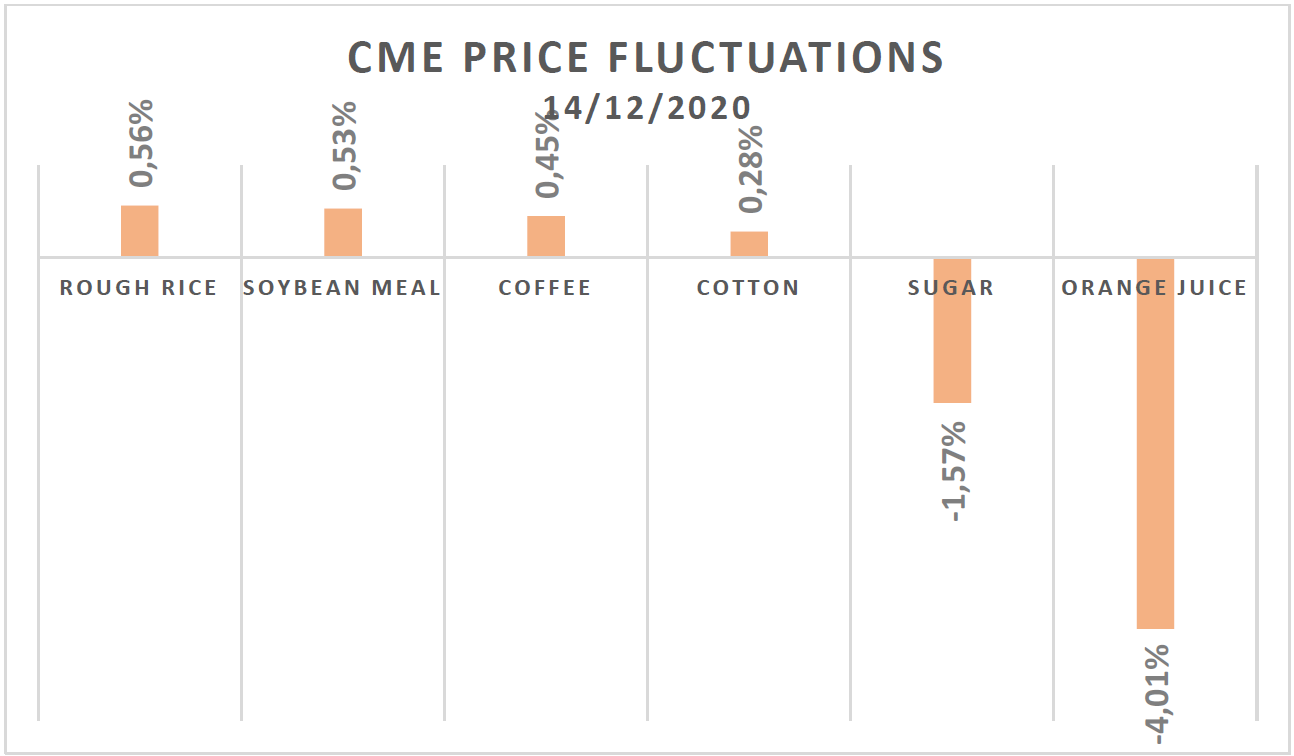 Meat Market
US beef exports to China skyrocket
In October, exports of beef to China rose to a record 6 831 tons worth $ 48.1 million, exceeding previous record levels in recent months. In October, US beef exports to China rose by 219% over last year. The demand was particularly strong after China's foodservice sector recovered from COVID-19 restrictions imposed earlier this year. In Hong Kong, where the catering sector recovery faced a large number of disruptions, exports from January to October decreased by 5% compared to last year in terms of volume (67 882 tons).
China's meat imports
In November, the demand for meat in China increased by 1.8% compared with previous months (China's General Directorate of Customs statistics). In November, China imported 775 thousand tons of meat. The reason for the increase of 14 000 tons of meat is the purchase of stocks by buyers for the winter months. Since August 2018, after the African swine fever crisis, China's role in the global meat trade has become extremely important and now stands at over 25%.
The data also showed that imports in the first 11 months reached 8.95 million tons, up 63% from the same period a year ago. However, shipments have slowed in recent months as the country quickly restores its pig herds and monitors frozen food consignments making it difficult to clear goods through customs.
Sources : CONAB, FranceAgrimer, FAO, European Commission, Eurostat, Reuters, CME