by Dr Natalija Riabko – Head of Commodities, Sinowei
Crops Market
Soybeans
Active Consumption Reduces Soybean Stocks in 2020/21
The final estimate for the 2020/21 US soybean crop is 4.135 billion bushels, 35 million less than the previous forecast. The decline is due to a drop in average US yields to 50.2 bushels per acre, compared with the previous forecast of 50.7 bushels. Given record first quarter demand, the USDA raised its 2020/21 refining forecast by 5 million bushels this month to a record 2.2 billion. Based on changes in harvest and consumption, USDA projects a sharp decline in end-of-season 2020/21 stocks from 525 million bushels in 2019/20 to a 7-year low of 140 million. The average US soybean price is expected to rise to $ 11.15 per bushel in 2020/21, the highest level since 2013/14.
According to Chinese Customs data, soybean imports to China jumped 13% in 2020 to an annual record as processors increased purchases amid rising margins and strong demand from the country's rapidly recovering pig sector. China, the world's largest soybean importer, purchased 100.33 million tons of soybeans in 2020, up from 88.51 million tons in 2019 (the General Administration of Customs). In December alone, imports amounted to 7.524 million tons, which is 27% less than 9.54 million tons a year earlier.
Corn
In 2020/21, reduced corn stocks decrease consumption and raise prices of US corn. The production in is reduced to 14.182 million bushels, primarily due to a decrease in the national average yield from 175.8 to 172.0 bushels per acre. Opening balances have also been reduced, resulting in a 400-million-bushel reduction in total projected stocks from the previous month. The projected average farm price has been raised from $ 4.00 to $ 4.20 per bushel due to more limited supply prospects. Domestic consumption and exports are also weakened due to reduced inventories and higher prices. Corn exports are projected to reach 2.550 million bushels in 2020/21, which will continue to be a record if sold, but it is 100 million bushels less than projected in December.
Brazil's corn production forecast for 2020/21 has been cut to 102.313 million tons from 102.589 million tons in December, according to the latest report from Brazil's national agricultural agency Conab. The downward revision of the production forecast is associated with a possible decrease in the yield of the first corn crop due to unfavourable weather conditions in the south of the country. Since December, Conab kept unchanged its forecast for corn exports and consumption for 2020/21. Brazil is the third largest corn exporter in the world.
In 2020, China kept the status of Ukraine's largest trade partner
In 2020, China kept its status as Ukraine's largest trading partner. Bilateral trade amounted to USD 15.42 billion, an increase of 20.8 % compared with the previous year (the State Customs Service of Ukraine data).
According to the State Customs Service, in January-December 2020, Ukraine shipped to China goods worth $ 7.11 billion. This is 97.7 % increase compared to 2019. The main export items were ore and slag, grain crops, ferrous metals, fats and oils of vegetable and animal origin.
At the same time, in 2020, imports from China decreased by 9.4 % – up to $ 8.31 billion. Ukraine mainly purchased electrical machines, equipment, vehicles, plastics, toys and sports equipment.
In 2020, the trade turnover of Ukraine amounted to USD 103.4 billion, having decreased by 6.4 percent. versus 2019. Exports fell by 1.7 % – to $ 49.2 billion, while imports fell by 10.3 %. – up to $ 54.2 billion.
According to the Ukrainian side, in 2019 the volume of trade in goods between Ukraine and China amounted to $ 12.76 billion, an increase of 30.4 % compared to 2018. This allowed China to become Ukraine's largest trading partner.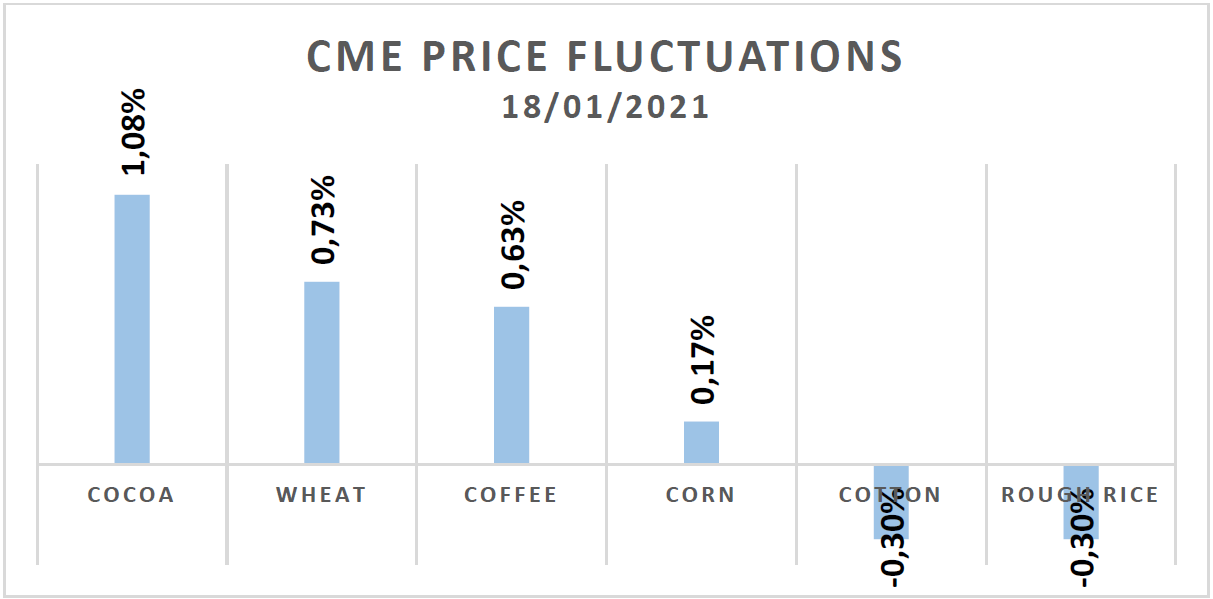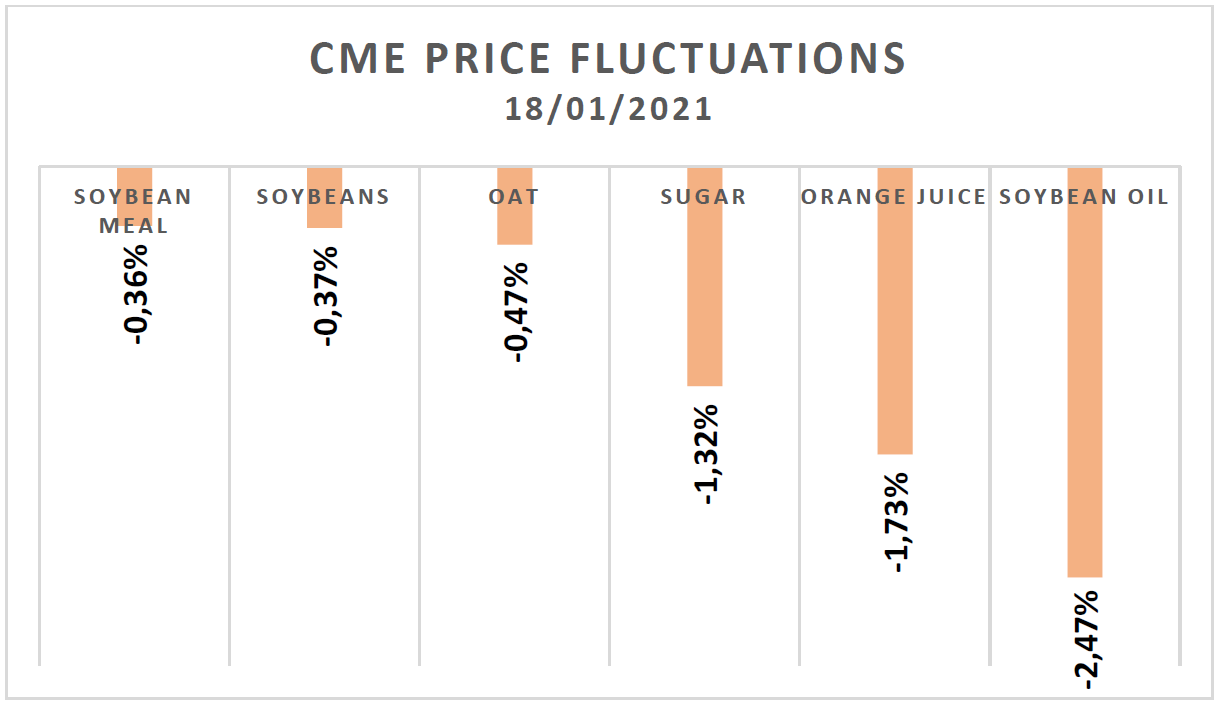 Trade trends 2021
According to experts, in 2021, the impact of weather disasters could play the leading role in the markets. The 2019 spring floods in the United States have had the most direct impact on the global crop market for a number of years. In 2019, areas in India were also flooded on a significant scale, and in June 2020, floods affected many provinces in China. In 2020, floods affected 5 million hectares of arable land, with an estimated total economic cost of $ 20 billion.
Severe weather conditions have also been common in the United States in the past 2020. But now, not the weather, but trade contradictions with China and, of course, numerous financial measures to fight the COVID-19, had a significant impact on the market. The latest 2020 reports showed that the sales of multinationals are generally positive compared to 2019. Forecasts for 2021 will depend more on the outcome of the US presidential election, which was uncertain at the time of writing.
Supply and demand imbalance
The market will be influenced not only by general political and weather factors, but also by the problems that have become aggravated in 2020. One of them is the emerging imbalance between supply and demand.
The oversupply has been persisting for several years and has been aggravated by the measures introduced in the context of the pandemic. Supply chains are filled to the brim, and uncertainties around labor and logistics have spurred additional inventory around the world. As a result, there are fewer opportunities to buy and sell. Overloaded inventories, combined with an uncertain production shift to "home consumption," could disrupt purchasing patterns in 2021.
The trade conflict between the US and China manifested itself in premiums on various chemical products, which further contributed to the accumulation of food stocks. Tensions on the border between China and India have impacted trade and logistics between the two leading manufacturing countries, exposing the fragility of the supply chain of raw materials to produce molecules.
There are already 32 current complaints under consideration by the WTO in relation to agricultural products. And the situation complained about could get worse as countries work to strengthen their national economies.
Regulatory issues
Obviously, restrictions on the plant protection products market will be tightened. First of all, in the markets of the EU countries, which was the largest pesticide market in the world until 2009. The European Commission (EC) has unveiled a new Farm to Fork Strategy (FFS), a flagship initiative under the new European Environment Agreement (EGD), which will allocate 100 billion euros from 2021 to 2027 for the EU's transition to a more sustainable economic system. This initiative aims to reduce pesticide use by 50% by 2030 and reduce the use of mineral fertilizers by 20%. Currently, about 72 US-approved pesticides are already banned in Europe. Other countries are following this example. Brazil has banned 17 US chemicals and China has restricted 11. Organophosphates (horpyrifos), neonicotinoids, glyphosate, and paraquat are under various forms of restrictions in key agricultural markets around the world. Mexico currently bans the import of glyphosate and its precursors, while other countries (Thailand, Vietnam) have created the basis for phasing out the world's most widely used pesticides.
Sources : FAO, USDA, CME, European Commission, Reuters, , China Customs, Conab