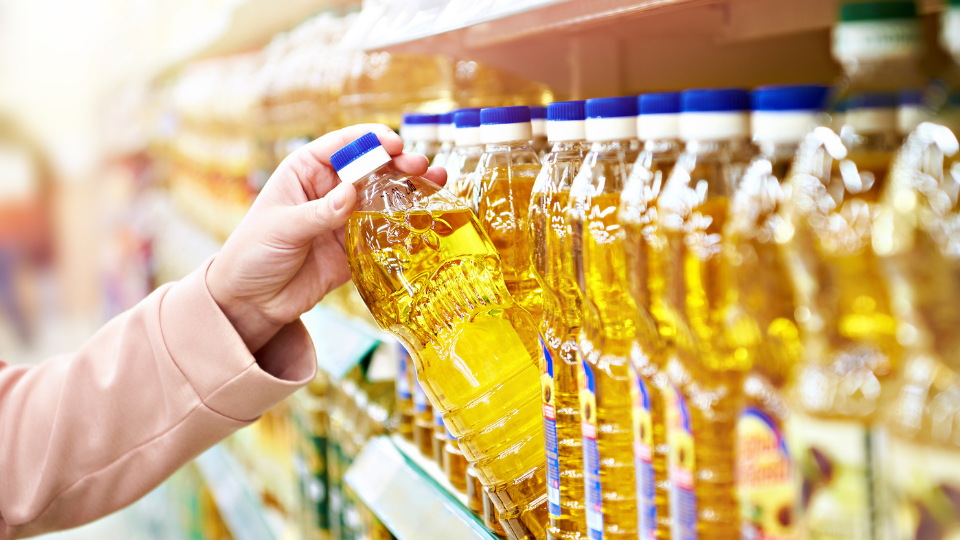 by Dr Natalija Riabko – Head of Commodities, Sinowei
FOCUS : Sunflower Oil Market
Sunflower oil is gradually conquering the world export markets – over the past 5 seasons, its world consumption increased by 30%. The world consumption in 2020/21 is estimated at 19 million tons.
The main consumers of sunflower oil in the world are the EU countries, Russia, India, China, Turkey, Argentina, Egypt and Ukraine. Ukraine, Russia and Argentina not only cover domestic consumption through their own production, but are also the main suppliers of sunflower oil to the world market.
Currently, the largest importers of sunflower oil in the world are India, the EU countries and China, which has doubled its imports over the past 5 seasons. According to oilworld.ru analysts, the consumption of sunflower oil in India and China will continue to grow, which, in turn, will entail further growth in imports. According to experts, imports of sunflower oil to India will grow by 1.9 million tons per year by 2022/23 MY, to China – by 0.5 million tons per year. Based on the forecast results, it can be concluded that the world will need an additional volume of 2.6 million tons of sunflower oil, which can be sold by countries with a significant raw material base, strong processing and port facilities.
Possessing the largest port potential among all the countries of the Black Sea region, Ukraine because of the lack of opportunities to develop its export of energy resources, has been actively increasing the export of agricultural products, in particular sunflower oil.
For about 15 years, it was ahead of Russia, being the undisputed leader among the exporting countries of sunflower and its processed products. But the potential of Ukraine is not limitless, and the possibilities for increasing exports of vegetable oils are currently almost exhausted. It is already obvious today that the limit for the export of sunflower oil from Ukraine is around 5 million tons.
As for the sunflower harvest in Russia, the situation will be better than in Ukraine. Especially in the medium and long term. Russia's available export potential may reach 5.4 million tons by the 2025/2026.
Russia has modern high-tech processing facilities, which are already able to process 19-24 million tons of oilseeds, developed internal port logistics – shallow ports of the Azov Sea: Rostov, Azov, Yeisk, Taganrog, a terminal in Novorossiysk (200-250 thousand tons / year of oil in bulk), as well as the Taman deep-water terminal (up to 1.5 million tons / year of liquid cargo).
For the time being, Russia maintains its leading position mainly due to the raw material component – 80% of exports are represented by unrefined vegoils supplied in bulk.
Wheat
Grain market: a struggle between wheat exporters and importers continues. The results of the confrontation are announced at the ongoing tenders. Egypt did not buy any wheat above three hundred dollars per ton. Those suppliers who could participate in tenders and wanted to close a deal were forced to cut prices by $ 3-8. GASC also made concessions by buying double volumes from suppliers who agreed to give a discount. It is very likely, that the wheat market for the next three months (based on seasonality and against the background of the expectation of a new harvest) will tend to slightly decline. If there is no drama in the reports on the situation with winter crops, prices could be decreasing until May.
EU and UK total wheat production in marketing year 2021/22 (July-June) is likely to reach 147 million tons, up 8% from last year, amid increased acreage and higher expected yields, (S&P Global Platts). The total harvested area of wheat in the EU and the UK is likely to grow by 6% year on year to 26 million hectares in 2021/22. According to the USDA, the EU and the UK are likely to produce 135.8 million tons of wheat in 2020/21.
Corn
Last week, corn prices showed mixed dynamics as traders were waiting for an update on supply and demand fundamentals from USDA report that came today. US exporters have announced the sale of 4.0 million bushels of corn to unknown destinations during the 2020/21 marketing year.
Argentina's maize crop is expected to reach 46 million tons in 2020/21 (Buenos Aires Grain Exchange data) Lower-than-expected yields due to dry weather is the reason for the drop from an earlier estimate of 47 million tons.
Last week, the 2020/21 soybean crop was estimated from 46.5 million tons to 46 million tons. Argentina is the world's third largest exporter of corn and the largest supplier of soybean meal.
China's record purchases of US corn in recent weeks are expected to further deplete US corn stocks, which means corn prices will remain high over the next few months (Platts). US corn prices, which are currently hovering near seven-year highs of around $ 5.5 per bushel, could reach $ 6 per bushel in the near term. Prices could even hit $ 7 a bushel if additional demand from China arises.
Logistics
Russia started to export grain by rail. First grain express trains went from the Novosibirsk Region to Mongolia. Two trains with wheat with a total weight of ten thousand tons were the first Russian express exports by rail.
Instead of almost three weeks, the express train can load the grain in just five days. The grain delivery logistics has been worked out as much as possible: trains run according to a special schedule, and they do not need additional sorting of cars or reloading from one train to another; the rails in Mongolia has the same dimensions as the Russian ones. This new logistics option speeds up the delivery of goods and ensures better grain safety, as well as saves senders' money.
Vegoils
The market is strengthening against the background of the continuing growth in world prices for vegetable oils and the resumption of active purchases of raw materials by processors.
World prices for vegetable oils are actively increasing after a sharp correction in the second half of January. Soybean oil prices have risen by 4% since the beginning of the year, and by 8% from January lows. The market is supported by strong import demand and concerns about the soybean crop in South America and higher oil prices. Against this background, export prices for Russian sunflower oil have risen by 9% since the beginning of the year to $ 1.3 thousand / ton. Additional support was provided by concerns about the possible introduction of an export duty on sunflower oil by Russia.
There are no fundamental factors for the increase in prices for sunflower oil – the market is in the phase of a local maximum, when buyers refuse to pay more for the product, replacing it by cheap soybean oil. "The new harvest of soybeans in South America also contributes to lower prices for both soybeans processed products and other types of vegoils, including sunflower and rapeseed oils. If the Russian government decides to impose an export duty on oil, then there will be another explosion in vegoils prices.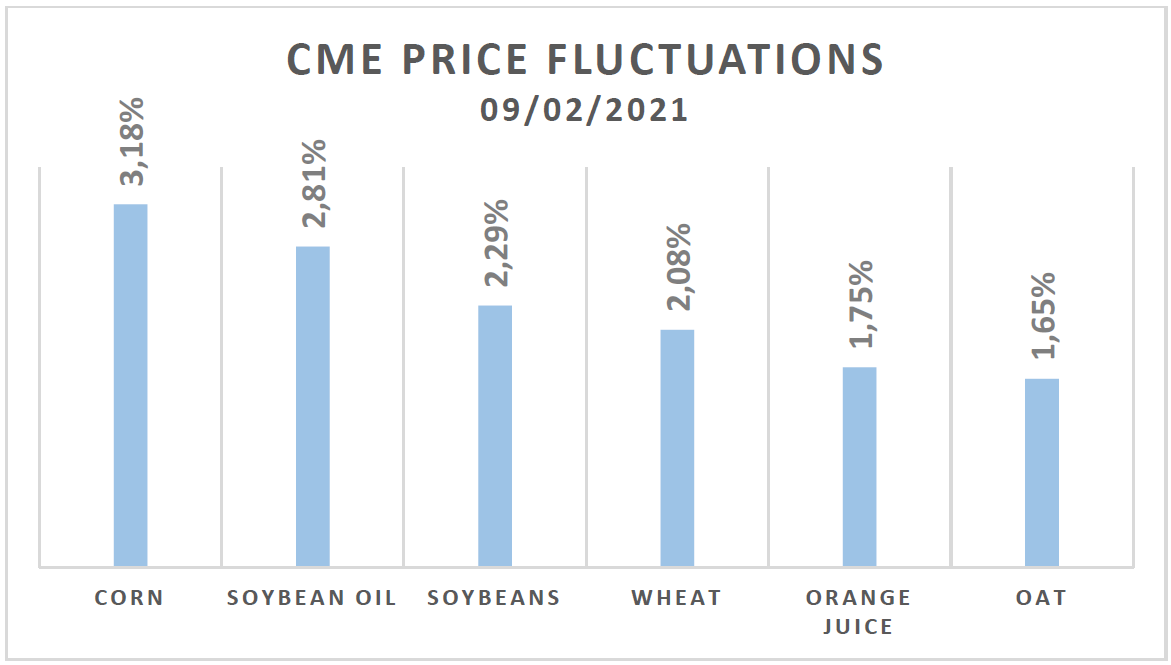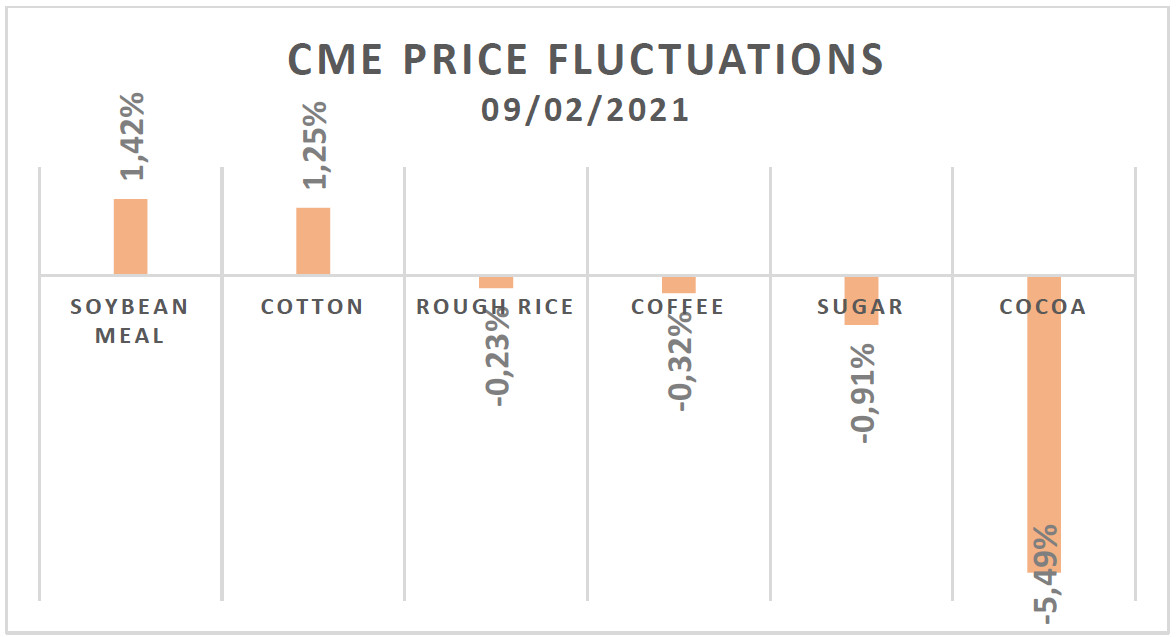 Sources : USDA, European Commission, Eurostat, Reuters, CME, oilworld.ru